Elect Frank Dillman for Macon County Commission Chairman
Election Day, November 8, 2016, will be the beginning of change in Macon County
Need to register to vote, visit Alabama Secretary of State website.
Want a glimpse into Macon County Politics? Look no further than here. May I suggest scrolling down to 29Sep2015 - the day the budget was approved and the "ultimate" gold watch was given away while conducting county business during the morning!
| | | |
| --- | --- | --- |
| Vote for Change... | | ...Change your Vote |
The
annual Macon County Awards Banquet will be sometime in August. Cindy Cheaves did an outstanding job in designing my campaign ad for the banquets' program, don't ya think? Inasmuch as the chairman publically stated that the nominees would be doing more for the county than being in the "newspaper" all of the time. Surely, he was not referring to my Tuskegee News column, Knockin' 'bout Notasulga, and my letters to the Tuskegee News and Opelika Auburn News editors of how our county government prefers doing business with as few eyes and ears on them as possible and the use of our hard earned tax dollars, in my case my retirement money? In case he was referring to me, then I have no reason to change my behavior because I am not to be recognized anyway. However, I might have a suprise for the county next month, July 2016. Those of you who know my demand for governmental transparency may not be surprised at all. All of this depends on events the next few weeks. I'll let you know one way or the other as the chips fall or fly.
During a meeting with the Macon County Probate Judge just a week before the petitioning deadline my wife and I where told I would be on the Nov 8, 2016 general ballot. Now the work begins. All of us knowing change is needed in Macon County can do small things to help to get us that change.
I was told Tuesday, December 8, the Registrar certified 233 petitions which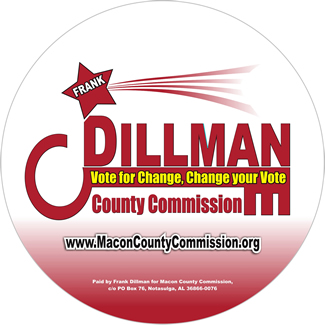 is nearly 40% more than required by law. The Registrar received the petitions only the day before, wondering why it took two weeks to get the petitions up one flight of steps (yes there is an elevator in the building). This delay as well as others I have experienced from the Probate Judge during the time becoming certified is evidence in itself as to way competition is needed in our one-party county. Bumpy roads unless one of the boys.
Friday, November 20, 2015 I met with the Macon County Probate Judge to turn in my nearly 300 petitions for ballot access. The event was reported on page one of The Tuskegee News on Wednesday, 25Nov2015. Permission was granted by the paper to share this historic event and what I want to accomplish on these two pages with you. page 1 and page 11 in pdf format.
Are you a Macon County

resident

and angry with the increased taxes our commission continues to place on us? Worse yet are you aware of their failed attempts at even more taxes?
Are you a Macon County

small business owner

and angry about the county commission's insatiable appetite for your business license fees and higher fuel taxes?

Money taken from our wallets

to feed county government: Auto, Farm, General and Machine Manufacturing Consumer fees; Amusement, Auto, Farm, General, Machine Manufacturing, and Vending sales taxes; and Sellers Use fees for Auto, Farm, General, and Machine Manufacturing. Fees collected by retailers are always passed to the consumer so we get the privilege of paying sales tax an reimbursing the retailers for their taxes.
Do you know Macon County's financial picture is not as a result of too little taxes but excessive "

political entitlements

" taken by our Chairman and commissioners and government expenditures.
Our

middle class

has been shrinking for years and taking with them the youth and needed skills. Therefore, additional taxes are placed upon the poor who can not afford to leave and those who are willing to pay the extra fees and taxes.
What our commissioners do not or care to understand is money in any form taken from us is actually detrimental to our community but makes them feel good.
Why are people not staying in Macon County? Without a doubt the policy makers or elected public servants continue to fail us. Charles Barkley has said more than once, blacks have not benefitted by voting solely democrat. Herschel Walker too is not favorable of the democrat platform for presidency.
If Macon County is to reverse its decades of population loss our county government must be much more open to the general public than simply holding a public meeting at 10:00 on a weekday morning. The county must also get out of the faces and ledgers of local businesses to afford them to expand their services, hours, products, and hire additional employees.
At 67 years of age I am tired of the lack of care and understanding of the general public our county chairman, as the county administrator, displays.
As an independent candidate, I will Walk YOUR walk. I will not represent party or association mandates to you; I can and will research and do my own thinking into what is best for the people of this struggling county.
I will serve Macon County using experiences of my 20 years of military service, 11 years working and assisting Auburn University Poultry Science students, and my many years of watching our county government.
I will serve you rather than putting time in for state retirement benefits.